Master in Food&Wine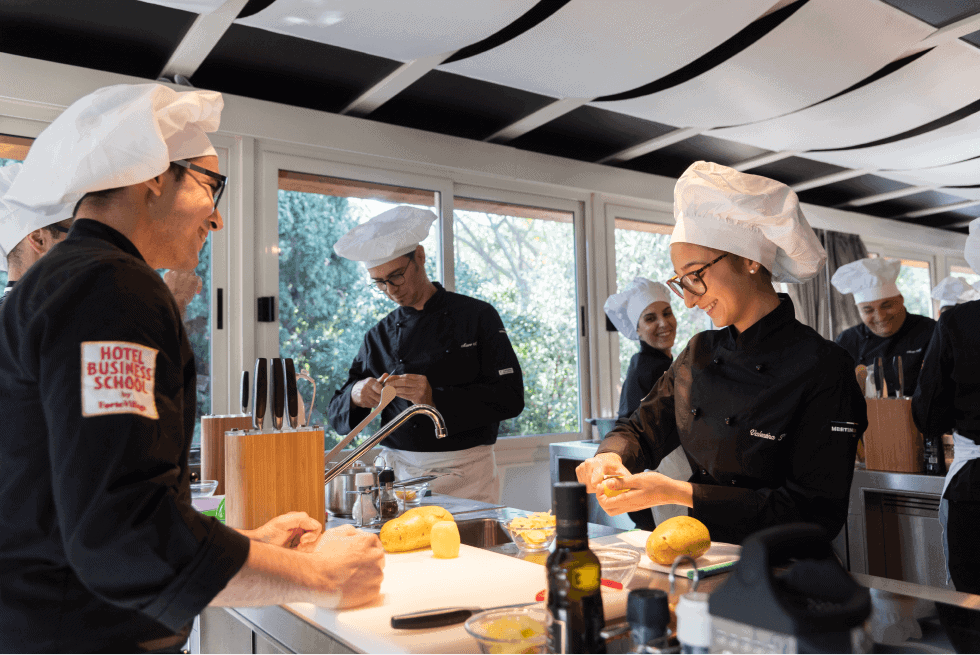 Giugno 17, 2019
Un percorso di specializzazione nel settore enogastronomico
L'hotel business school di Forte Village, dopo aver attivato il Master in Hotel Five Stars, ha sviluppato un nuovo Master in Food and Wine Operations Management. Un percorso di alta specializzazione nel settore enogastronomico nazionale e internazionale.
Le nuove figure richieste dal mercato
Lo scopo è quello di creare dei profili professionali in grado di ricoprire le seguenti professioni:
Area Wine e beverage:sommelier, degustatore, assistente enologo, addetto a produzione e vendita cantine e birrifici artigianali, addetto commerciale aziende vinicole.

Area food: restaurant manager, chef assistant, assistente di cucina, maitre, addetto commerciale o consulente nelle food company.

Area HORECA e GDO: assistente F&B nel settore HORECA, responsabile di reparto GDO, manager e consulente nel settore HORECA e GDO.

Area management filiera agroalimentare:tecnico vendite e marketing nell'agroalimentare, guida enogastronomica , assistente marketing manager, addetto commerciale, organizzatore eventi food and wine, professionista in aziende agroalimentari, imprenditore di filiera, consulente di start up.
Progetto formativo
 IL MASTER si rivolge a neolaureati, giovani diplomati con esperienze nel settore o in uscita da scuole alberghiere o istituti agrari, professionisti, consulenti e imprenditori. I dati del comparto food and wine indicano infatti per l'Italia straordinari tassi di crescita economica e occupazionale per i prossimi 10 anni, all'interno di un ciclo economico generale non certo brillante. Il master prevede un percorso di più moduli ed uno stage, divisi in: 320 ore di didattica e laboratori, 40 ore di project work, 60 ore di esercitazioni e testimonianze e un cross training residenziale di 80 ore (presso il Forte Village Resort). Lo stage, con una durata complessiva di 1000 ore, si svolgerà presso importanti aziende locali e internazionali del settore enogastronomico e agroalimentare. 
Partnership
I master professionali in hotel management sono garantiti dal miglior brand luxury e dalla partnership con la LUISS business school, offrendo borse di studio individuali, voucher collettivi e prestiti a tasso agevolato. 
Le borse di studio di Centro Cash
In questo scenario, abbiamo deciso di sostenere al 50% due di studio e di ospitare le due risorse presso i nostri negozi per lo stage curriculare, al fine di mettere in pratica la preparazione accademica e confrontarsi nelle dinamiche dei Cash&Carry della Rete. Abbiamo inoltre messo a disposizione i nostri locali per una giornata formativa nel reparto di Pescheria del punto vendita  di Cagliari, per far comprendere in modo pratico agli studenti il funzionamento del reparto: dall'approvvigionamento alla conservazione della materia prima .